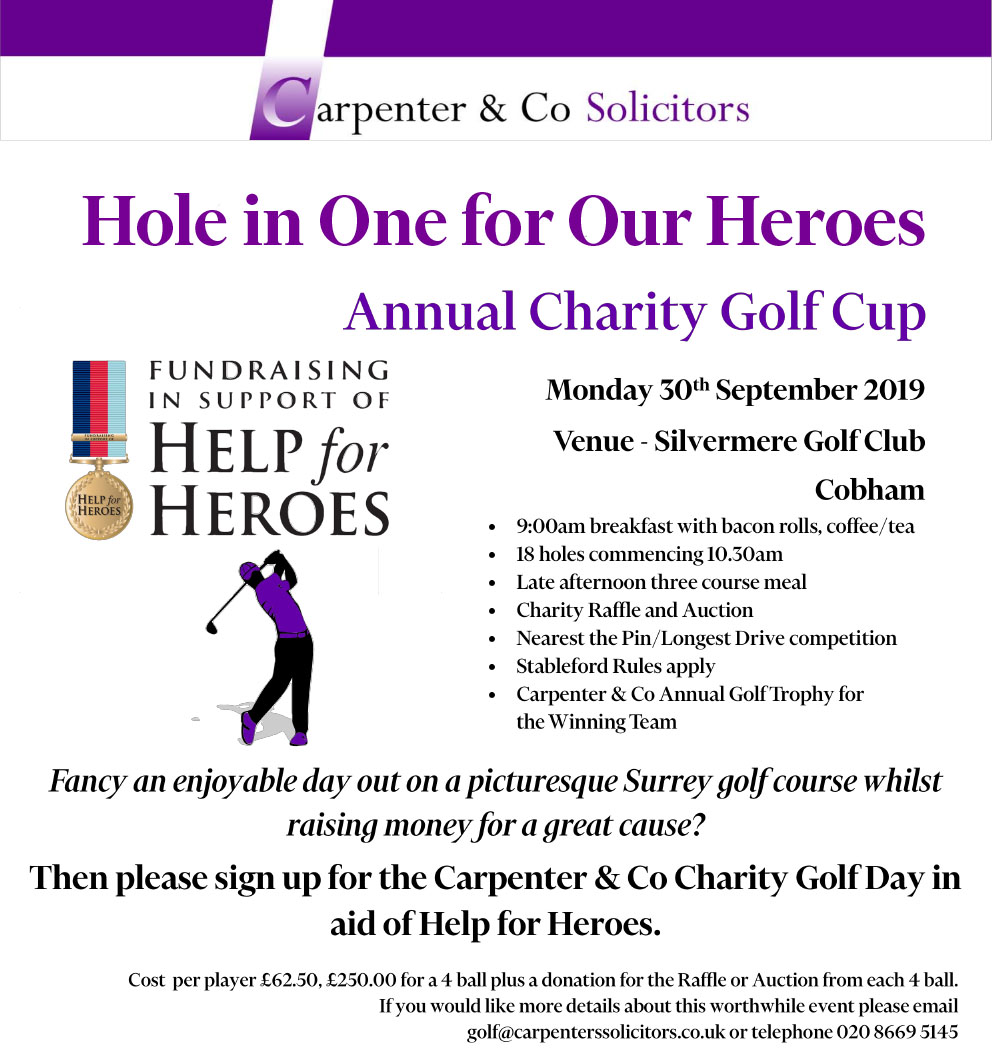 We are looking forward to our 11th annual charity golf day at Silvermere golf course on the 30th of September this year. The event is in aid of Help for Heroes who do great work assisting armed forces veterans, service personnel and their families.
If you'd like to take part in this event, we have spaces available. See the flyer or contact us at golf@carpenterssolicitors.co.uk for further details.
Read More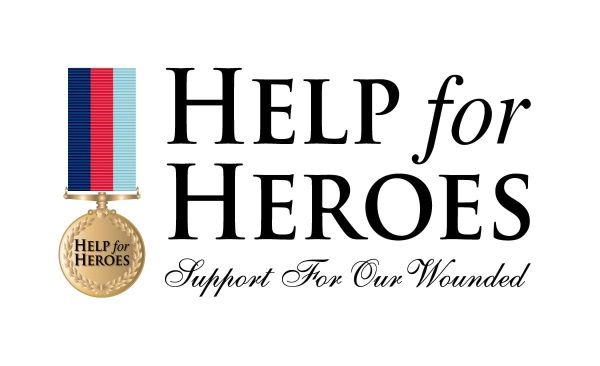 Help for Heroes
Thank you to everyone who came and supported out Annual Charity Golf Day at Silvermere Golf Club on 24th September 2018 being the 10th anniversary of this prestigious event. A good time was had by all, raising money for Help For Heroes.
Our support of this worthy cause depends on the generosity and unending support of the people who give up their time and money to join us each year at this event. We raised thousands of pounds and could not have done it without you our amazing supporters! We would like to also thank Chris Parker Brigadier (retired) MBE, for joining us and for sharing his account of his 28 years' service to HM Forces.
Thank you also for the many kind donations to our Raffle and Auction.
In case you missed it, our winners were:
Winning Team – Rob Preston, Michael Fowler, Lee Challis & Gary Challis
Individual Overall Winner – Bob Grace
Individual 2nd place – David Sweeting
Individual 3rd place – Myles Verlander
Nearest the Pin – Anton Males
Longest Drive – Jay Cordwell
We are looking forward to our 10th annual charity golf day at Silvermere golf course on the 24th of September. The event is in aid of Help for Heroes who do great work assisting armed forces veterans, service personnel and their families.

If you'd like to take part in this event, we have spaces available for a few more teams. See the flyer or contact us at golf@carpenterssolicitors.co.uk for further details.

Read More

There's nothing we love more than getting behind a worthy cause. Amy Ellis and Chloe Preston who are Dementia Friends have decided to run a Cupcake sale. We will be busy baking cakes to raise money for the Alzheimer's Society and selling them outside our offices on Tuesday, 12th June between 11.00am and 3.00pm.

Funds raised on the day are aimed to raise awareness for the fight against dementia. 850,000 people in the UK have dementia, and this is set to rise to over 1 million by 2025. We are proud to be taking part in Cupcake Day which is a brilliant and easy way to support the work of the UK's leading dementia charity.

There will be bunting pages for kids to colour in and a selection of cakes to buy for a donation upwards of 50p.

Come along and treat yourself to a tasty little morsel in aid of an excellent charity!

Read More

The Health & Wellbeing Event of the Wallington Community Wellbeing Group took place on 27 April at the Trinity Centre in Maldon Road, Wallington, SM6 8BL.

We were proud to sponsor it.

Read More

We understand it is a daunting prospect finding out what your rights are in relation to divorce or other family matters.

We at Carpenter & Co are here to listen, and offer a free 20 minute consultation to discuss general topics that may relate to your case. If however you require longer than 20 minutes there will be a charge of £100 plus VAT up to an hour of initial advice.

Call 020 8669 5145 today to book a free appointment with Patricia George.

Read More

Carpenter & Co secures Law Society's conveyancing quality mark

Carpenter & Co in Wallington has once again secured membership to the Law Society's Conveyancing Quality Scheme – the mark of excellence for the home buying process. This is the 5th year in a row that Carpenter & Co has achieved CQS accreditation.

Carpenter & Co underwent rigorous assessment by the Law Society in order to continue to hold CQS status, which marks the firm out as continuing to meet high standards in the residential conveyancing process.

Law Society President Andrew Caplen said that the CQS accreditation is the hallmark of high standards and establishes a level of credibility for regulators, lenders, insurers and consumers.

CQS is the quality mark of the home-buying sector and enables consumers to identify practices that provide a quality residential conveyancing service. With so many different conveyancing service providers out there CQS helps home-buyers and sellers seek out those that can provide a safe and efficient level of service.

Paul Verlander, Senior Partner says:

Carpenter & Co is delighted to have secured CQS status. Buying and selling a home can be a stressful time. By looking for a CQS firm like Carpenter & Co the public can seek out a firm that has proved its commitment to quality.

The overall beneficiaries will be clients who use Carpenter & Co when buying a home. They will receive a reliable, efficient service as recognised by the CQS standard.

The scheme requires practices to undergo a strict assessment, compulsory training, self reporting, random audits and annual reviews in order to maintain CQS status. It is open only to members of the Law Society who meet the demanding standards set by the scheme and has the support of the Council of Mortgage Lenders, the Building Societies Association, Legal Ombudsman and the Association of British Insurers.

---

For more information on the Law Society's Conveyancing Quality Scheme visit www.lawsociety.org.uk/cqs

Or contact the CQS Unit on 020 7316 5550 or CQS@lawsociety.org.uk.

Read More

For some married couples this is a joyous time with their children.   For others it is time of fear, depression and/or uncertainty.   The questions of concern 'I don't think I can do this anymore she/he is no longer the person I married' or 'he/she keeps telling me I am not entitled to anything if I leave'.

If you are already tried Relate (counselling) and this is no longer an option then seek legal advice as to the way forward if you strongly believe the marriage has come to an end.

You planned to get into marriage so why not get some advice so that you can plan to get out, if possible, on an amicable basis.

There are various paths you can receive assistance as set out below:

Divorce Coach

If you are thinking I cannot cope or don't know which way to turn.   Then you might wish to speak with a divorce coach who will be able to assist and guide you throughout the process.

Mediation

If the parties are amicable or you are of the opinion you are in a position to discuss matters relating to who should start the divorce; with whom should the children reside or should there be shared residence and lastly what is going to happen to our finances.   Then this is a sensible option.  If the parties are able to set out proposals to settle you will be directed to your appointed solicitor to incorporate the proposals into an agreed format for lodging with the court together with other documentation.

Divorce

If you decide that the marriage is at an end you should speak with a solicitor who will be in a position to provide advice on the process.   Some people are of the opinion they can divorce based on the irreconcilable differences.   Unfortunately, this is not sufficient.   Divorce must be based on the irretrievable breakdown of the marriage based on one of five facts: adultery, two years separation with the consent of the other party; unreasonable behaviour, desertion (with two years separation) and lastly five years separation.

Matrimonial Finance

This is usually the major bugbear when parties separate!  Parties will be concerned about 'I need sufficient money to re-house the children and myself' or 'I am going to be stitched up and have nowhere to live even though there is sufficient equity in the home'.

Go along and speak to a solicitor for an initial interview to find out your position.   You may be directed to attend mediation if they see a glimmer of hope the parties are able to sit down and discuss matters sensibly.   Alternative, your solicitor will arm you with sufficient information in order for you to work out the next step.

Before you can enter into any form of negotiation the parties will need to provide full and frank disclosure of their assets, income and liabilities to ensure there is no skulduggery.  The parties and solicitor will enter into negotiations and if an agreement is successfully reached will be drawn up into the required format for the judge to review.   If the parties are unable to reach an agreement the parties will be forced to go through the court system.   Do not see this as a daunting prospect as the parties are still able to negotiate right up to the steps of the court or throughout.

Therefore your first step is to consider whether you marriage has truly run its course and, if so, come along and speak with a solicitor who will guide you on the next stage of your journey.

For advice please contact us on 02086695145.

Read More

On Friday the 24th November 2017 from 5pm we will be serving free Mulled Wine and Mince Pies from our office. Come and Join us!

Read More

Request a Call Back