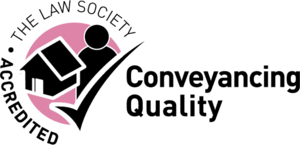 Carpenter & Co in Wallington has renewed its membership of Law Society's Conveyancing Quality Scheme – the mark of excellence for the home buying process.
Carpenter & Co underwent rigorous assessment by the Law Society in order to secure CQS status, which marks the firm out as meeting high standards in the residential conveyancing process.
Law Society President John Wotton said that the Law Society introduced CQS to promote high standards in the home buying process.
"CQS improves efficiency with common, consistent standards and service levels and enables consumers to recognise practices that provide a quality residential conveyancing service.

Buying a home is one of the largest purchases anyone will make in their lifetime, so it is essential that it is done to the highest standard by a solicitor. There are many different conveyancing service providers out there, making it difficult for home buyers to identify those which can ensure a safe and efficient level of service."
We are delighted to have secured CQS status. It is recognition of the high standards we provide to our residential property clients and is a signal to future home buyers of the excellent service level we provide at what is often a stressful time for many people.
The overall beneficiaries will be clients who use us when buying a home. They will receive a reliable, efficient service as recognized by the CQS standard.
The scheme requires practices to undergo a strict assessment, compulsory training, self-reporting, random audits and annual reviews in order to maintain CQS status. It is open only to members of the Law Society who meet the demanding standards set by the scheme and has the support of the Council of Mortgage Lenders, the Building Societies Association, Legal Ombudsman and the Association of British Insurers.
For more information on the Law Society's Conveyancing Quality Scheme visit www.lawsociety.org.uk/cqs.
Or contact the CQS Unit on 020 7316 5550 or CQS@lawsociety.org.uk.
Read More

We have pledged to support veterans and signed the Armed Forces Covenant.
Paul Verlander, Senior Partner, announced:
"Carpenter & Co are proud of our soldiers, and we thank them for their service, be it in Iraq, Afghanistan, Northern Ireland or on UN deployment.

They have faced more danger than most people will ever see and they deserve the support of the British people.

Carpenter & Co fully subscribe to the principles of the Armed Forces Covenant, to which we are signatories.

We employ veterans and welcome their life skills and maturity. We have raised over £20,000 for military charities, including Help for Heroes and the Poppy Appeal, and encourage members of staff who serve as volunteers in the Reserve and Cadet Forces.

Like solicitors up and down the land, serving families and small businesses, we are proud to support our veterans!"
Read More
This year, Carpenter & Co participated in the 2016 St. Raphael's Hospice "Make your Will Fortnight". Under the terms of this scheme, for a period of two weeks, our Wills & Probate team led by David Greenfield, Melissa Ritchie and Peter Tanner prepared wills free of charge for a number of local people who each made a donation to the hospice.
We have been pleased to support a local charity and the sum raised this year was £1,340.
Carpenters have supported this scheme previously and we hope to take part in the Make your Will Fortnight again if it is repeated next year!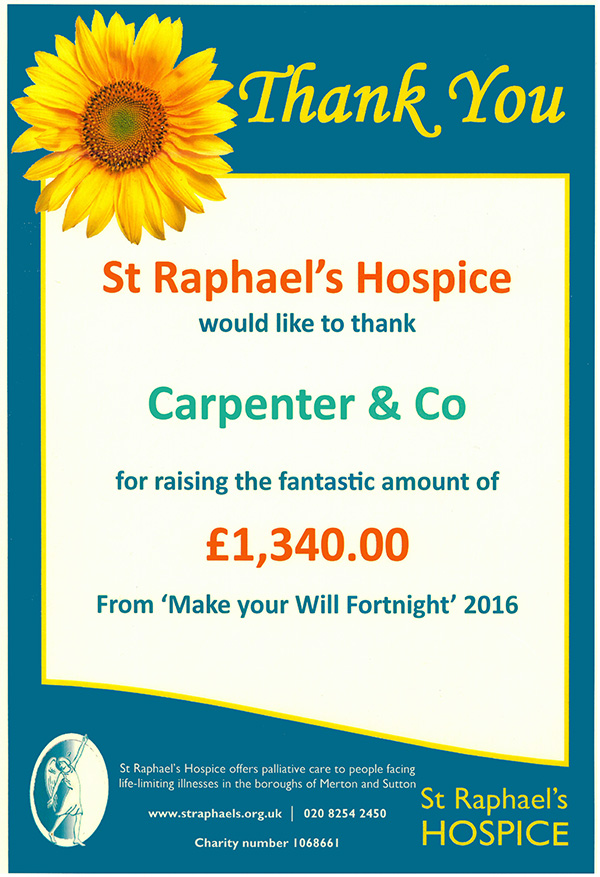 Read More