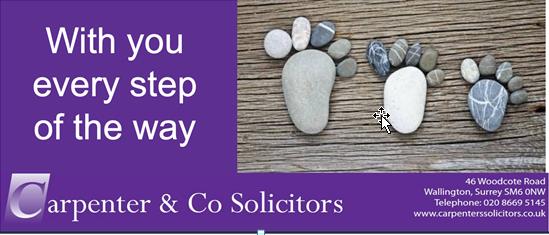 Residential Conveyancing
Residential conveyancing is the legal process of purchasing or selling a house. Residential conveyancing can involve buying/selling Leasehold and Freehold properties or Shared Ownership.
Residential conveyancing plays a huge part it people's lives. Whether it is buying your first home or selling and moving to a new one.   It is most  people's dream to one day own their own home and there are options and ways to assist them in achieving their goals and getting onto the property ladder, such as a reduction in Stamp duty payable for first time buyers up to £300,000 or Help to Buy Schemes brought in by the government.
At Carpenter & Co we have an experienced team of Property Solicitors and Licensed Conveyancers. Our aim is to take away some of the stress and make your transaction as easy as we can for you, and to give you an efficient service for all your property needs.
Once we are instructed we aim to make things as simple as possible for you.
We also provide you with an easy to read written process of how a sale and purchase transaction works.
To help you manage the costs of conveyancing, we will provide you with a full written quotation at the start of the transaction. This quote will include a comprehensive breakdown of the costs and expenses you can expect to incur with no hidden costs.
We are happy to provide an oral and written quotation upon request – please contact Paul Verlander at paulv@carpenterssolicitors.co.uk or telephone us on 020 8669 5145.
Related Posts